Home

Michael on Tenerifa from 22.4 to 29.4.1995

---
---
Saturday 22.4.1995

Outward flight : Geneva (GVA) - Tenerifa (TFS) with Oasis International (AAN405), in MD-83.
Departure 14:00
Arrival 19:10
I was on seat 14E. Our plane was late on the return flight from Tenerifa, so he landed in Geneva to take us onboard.
Then he contiune his flight to the north to Hambourg, to let out the german passengers there.
Now we are flying to the south. Our next intermediate landing is the airport of Gran Canarias.
We are in Tenerifa. Transfert to our appart-hotel near the Playa de Las Americas.


Monday 24.4.1995

I visit the botanical garden consecrate to cactuses.
A round trip is in place. With some explanations from a little pamphlet, i learn a lot about the different types of cactuses.
A the end, there is an aviary with about one hundred colibris and 5000 butterflys.


Tuesday 25.4.1995

I make a round trip of the island.
In our coach, we drive through the forest. The north side of the island is very green.
We stop at Loro Parque. It's an attraction park and a zoo.
We go on to candelaria. On our way, we drive through Santa Cruz.
In Candelaria, there is a black sandy beach. Then we drive back at home along the coast.


Wednesday 26.4.1995

I make a trip to the Las Cañadas National Park, one of the greatest crater of the world.
The N.P. is situated near the Mount Teide, the highest moutain of Spain.
The landscape is like the moon. Nothing grows here. We are at 2000 meters.
The lava formations are very strange.


Thursday 27.4.1995

Today, i make a round trip of the Gomera island.
At first, we drive to the port of Los Cristianos, to embark on a ferry of the Olsen compagny.
Departure at 9:00. At 10:15 we are in San Sebastian of La Gomera.
The island is to be seen. There are a lot of wild places.
At 18:00 we go back to Tenerifa.


Friday 28.4.1995

I visit a banana-plantation.
They aren't only bananas to see, but also tropical flora and fruits. It's also possible to eat some of them.
I buy banana liquor.


Saturday 29.4.1995

Return flight : Tenerifa (TFS) - Geneva (GVA) with Oasis International (AAN404), in MD-83.
Departure 6:45
Arrival 13:10
I was on seat 9C. Quiet fly.




---

The pictures below aren't mine.



A view of the Tenerifa island from a Space Shuttle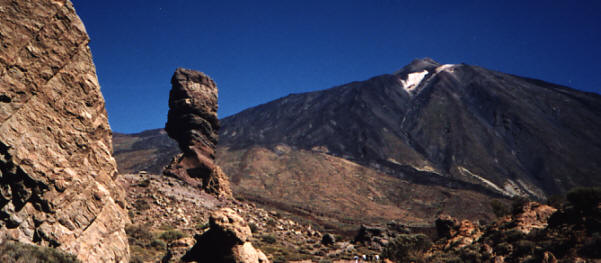 Lava formation near the Mt. Teide


A view on the sea. La Gomera on the left and La Palma on the right


The ferry between La Gomera and Tenerifa (in the background)
Home
---
Copyright © 1998-2003 Michael Straub - Last update 28th january 2000
Infos and comments to michael.straub@loterie.ch