Home

Michael in Japan from 26.5 to 7.6.1987

---
---
Tuesday 26.05.1987

Flight : Geneva (GVA) - Zurich (ZRH) with Swissair (SR132), in DC-10.
Departure 11:05
Arrival 11:55

Zurich (ZRH) - Tokyo Narita (NRT) with Swissair (SR166), in B-747 .
Departure 12:45


Wednesday 27.05.1987

Intermediate landing in Bombay (Mumbai) from 00:35 to 01:30
Intermediate landing in Hong Kong from 09:35 to 10:25
Arrival at Tokyo Narita 15:20
Transfer to the other airport : Tokyo Haneda

Flight : Tokyo Haneda (HND) - Komatsu (KMQ) with All Nippon Airways (NH 759), in B-747.
Departure 19:30
Arrival 20:30
Transfer by Bus to Takaoka. Our hotel is the Takaoka New Otani .


Thursday 28.05.1987

Visit of the Kitamura fabric in Takaoka City.


Friday 29.05.1987

Visit of the Sodick fabric in Fukui.
Then we go on to Kyoto.
Our hotel is the New Miyako .


Saturday 30.05.1987

City tour of Kyoto and visit of the Kiyomizu-Dera, Heian Schrein and the golden Pavillon temples.
"Shabu-Shabu" diner.
In the afternoon, we go on to Nara and we visit the Todaiji temple and the Kasuga Schrein.
"Teppan-Yaki" supper.
Our hotel is the New Miyako .


Sunday 31.05.1987

We take the Shinkansen Superexpress train between Kyoto and Nagoya.
Our hotel is the Nagoya Castle .


Monday 1.06.1987

Visit of the sewing-machine factory of Brother in Nagoya.
Our hotel is the Nagoya Castle .


Tuesday 2.06.1987

Visit of the Wasino factory in Komaki.
Our hotel is the Nagoya Castle .


Wednesday 3.06.1987

We take the Shinkansen Superexpress train between Nagoya and Odawara.
Then we go on to Kamakura and we visit some temples of the Shoguns epoch.
Then we go on to Hakone. On the way, we pass near the Mt. Fuji (3776 M).
Our hotel is the Kowaki-En .
Diner and night like the japanese people.


Thursday 4.06.1987

We go on to Tokyo.
Visit of the Tokyo tower, then we go to Akihabara (here are all the electronic stores).
Transfer to the airport of Tokyo Narita.
Flight : Tokyo Narita (NRT) - Hong Kong (HKG) with Cathay Pacific (CX 505), in B-747 .
Departure 18:00
Arrival 21:15
Transfer to our hotel, the Hyatt Regency .


Friday 5.06.1987

We visit the "New Territories" until the chineese frontier near Lok Ma Chow.
Diner at the "Victoria Peak".
Visit of the port in Aberdeen and back over the Repulse Bay and the Deep Water Bay to Kowloon.
Our hotel is the Hyatt Regency .


Saturday 6.06.1987

Flight : Hong Kong (HKG) - Zurich (ZRH) with Swissair (SR 183), in DC-10.
Departure 19:25
Intermediate landing in Bangkok from 21:10 to 22:00


Sunday 7.06.1987

Intermediate landing in Karachi from 00:45 to 01:35
Arrival at Zurich 06:25

Flight : Zurich (ZRH) - Geneva (GVA) with Swissair (SR110), in B-747 .
Departure 09:30
Arrival 10:15




---

A view on Tokyo and the Highways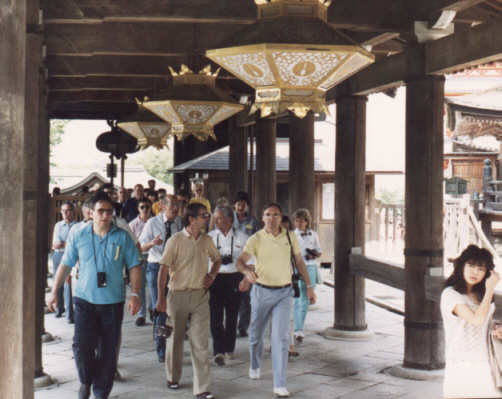 Our group entering in a temple in Kyoto.

Another temple. There is a Bouddha in there.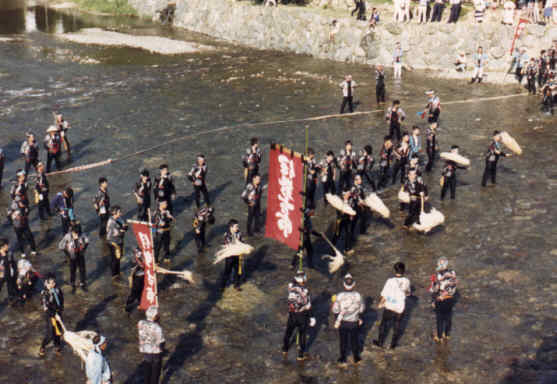 A feast on the Mikimoto island.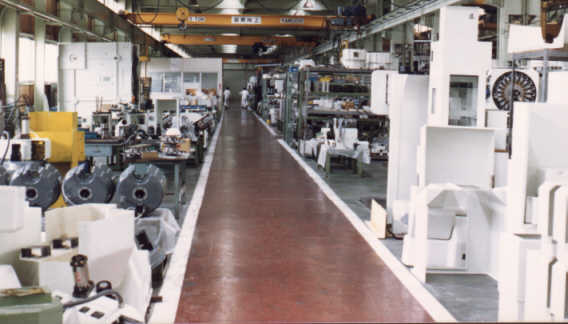 Inside view of the Kitamura factory.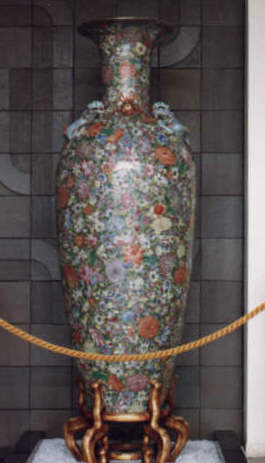 A 2m vase in the entrance of the Sodick factory.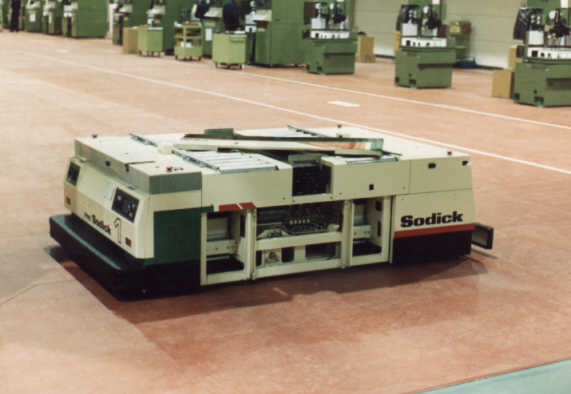 One of the robots in the Sodick factory.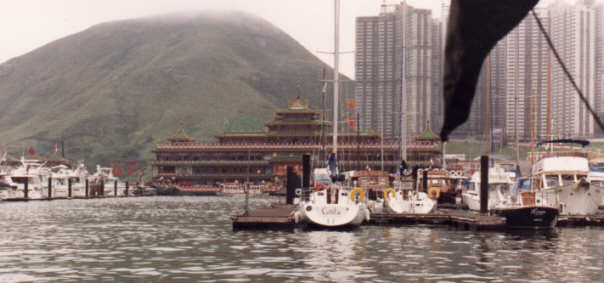 The JUMBO restaurant in Hong Kong.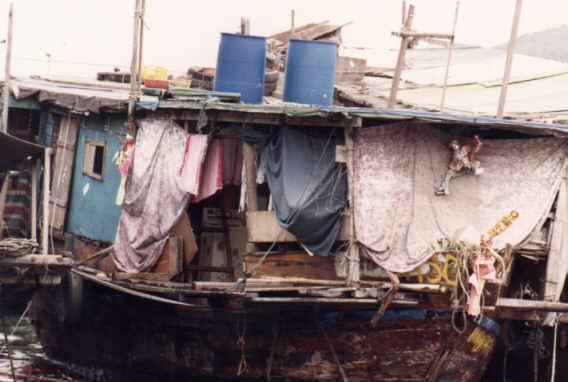 A floating house-boat in Hong Kong

A view on China from the new territories of Hong Kong.
Home
---
Copyright © 1998-2003 Michael Straub - Last update 3rd August 2000
Infos and comments to michael.straub@loterie.ch